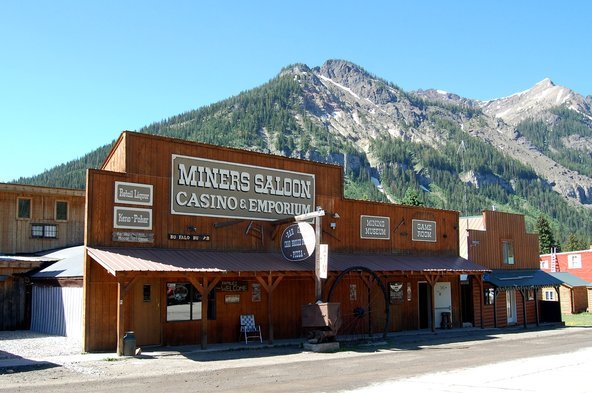 "You're going to Cooke City?" an acquaintance in Livingston, in south-central Montana, asked. "That's where all the varmints hide out!"
For a long time, Cooke City's isolation made it a destination for people who didn't want to be found. The tiny town is hemmed in to the east by the Beartooth Highway, a glorious 60-mile alpine pass that, though often described as the most beautiful drive in America, is closed much of the year. To the west is the least-visited corner of Yellowstone National Park, where bison and elk far outnumber the serious photographers bearing lenses larger than some of the animals they stalk.
But Cooke City has changed. Since wolves were reintroduced to northeast Yellowstone's Lamar Valley and snowmobiling became popular in the mid-'90s, it has become something of a tourist destination for both eco-crazed wolf watchers from Germany and fuel-gobbling farmer-snowmobilers from North Dakota. And to some extent, the second-home contingent that has transformed so much of western Montana — "yuppification" and "Californication" are the more polite terms locals have for the phenomenon — has also gotten word of the magical town nestled in the Beartooth Mountains.
But Cooke City has avoided becoming another Jackson Hole: by intention, it's all of three blocks and has no stoplights, streetlights, cellphone service or law enforcement (Main Street was finally paved last year), though it does offer gourmet food, comfortable lodging and as much untrammeled nature as remains in the Lower 48. And, ironically, credit for this goes mainly to the very "varmints" the town used to host — a generation of teenagers who passed through in the mid-'90s, many after summers in Yellowstone.
"You can imagine it — a bunch of kids, no cops, just crawling around the woods getting drunk without any real authority," Raz Schneider told me when I visited Cooke City on a recent road trip through the West. Schneider is a Californian who stopped in Cooke City en route to a Grateful Dead show in 1994. "Except that most of us are still here," he said.
A decade and a half later, these "kids" have grown into Cooke City's most socially conscious, innovative and interesting citizens. And Cooke City is one of the most unusually vibrant places I've encountered in that part of the country. At once sophisticated and raw, it combined a true sense of place with forward vision more substantively than Bozeman, Jackson Hole or other, much bigger New West towns.
To make ends meet after deciding to stay, Raz Schneider got a job bartending at Miners Saloon. There, he met Suzy Schmitt, from Richmond, Va. Chris Warren, from Manchester, England, by way of California, had visited, and decided to remain, the year before. They drank the cleanest water they'd ever tasted. They hauled in blue-ribbon trout from the silver waters of the surrounding lakes and rivers. (There are 950 lakes along the Beartooth Highway alone.) When it was time for work, they crossed the street, and when they wanted to clear their heads, they took a couple of steps beyond Miners and found themselves in pure, silent wilderness.
They had no magazines or phones; Schmitt didn't even have running water at first. But they had more outdoor recreation than the Olympics. It was all backcountry here. They grew up quickly, but with a focus and devotion harder to find in bigger places. They had to work several jobs to make ends meet, but they did so willingly, knowing what they got in return. "I call Cooke City a retirement community for people under 30," Schneider told me when I visited him at Miners, which he now owns. "You grow up a lot between 18 and 30 in a place like this."
They changed some things, though they worked hard to keep others exactly the same. The old-timers who sold them their businesses made them promise they would. And so there's still Jagermeister on tap and layers of duct tape patching up the stools at Miners. But Schneider, who has studied cooking, has also installed a seasonal menu that mostly uses local, sustainable and organic ingredients — an impressive achievement at 7,780 feet.
On the day I stopped in, he was puréeing beet for a special of elk chops, beet risotto and braised red cabbage. (He was keeping things real by slathering the chops in hunter sauce.) The beets were from Manhattan — that would be Manhattan, Mont., near Bozeman — and the chops from a farm near Wapiti, Wyo., on the eastern side of Yellowstone. "I think we're the only bar in Montana where you can get Korean short ribs but not ranch dressing," he said as I tore through sublimely candied pulled pork crowned with vinegary, scallion-studded cole slaw. "Not everything has to come off a Sysco truck. It tastes better, and it stimulates the local economy."
Indeed, "local" takes on a much broader meaning in Cooke City than in a metropolis where even the most committed locavores apply their ideals mainly to food. "It's because we love nature, we love the land," said Suzy Schmitt — now Hahn — who was until recently the proprietor of the stylish, if purposefully basic, Elk Horn Lodge with her husband, Jason, from Wyoming. She was explaining the progressive touches of such an intentionally rustic place: Why not "local" kitchen cabinets? Hahn had hers made from walnut trees growing nearby, no shipment required.
"I put beer on tap in our new house," she went on. "So we would cut down on glass bottles and cans, because we can't recycle glass here and it's too expensive to haul it to Bozeman."
Chris Warren now runs the Loving Cup Café (Highway 212; 406-838-2412). He serves fair-trade, locally roasted organic coffee, but he won't sell bottled water and he'll grill you to make sure you'd really rather take it to go than stay and chat with a reusable mug. The menu is mostly locally sourced — milk from Bozeman, produce from Paradise Valley to the north. "My sweet rolls come from the bakery down the street," he said. "We could've had competition, but I didn't want that. The people who have opened up businesses here essentially waive profits in order to keep it like it is." As if to illustrate his point, he watched a couple wander into the store but did not turn around because he and I were having a fine conversation. After some expectant mincing, the duo wandered out.
The seasonal visitors who arrived looking for second homes in the late 1990s didn't always jibe with such ideals. "These people started trying to pass ordinances because they wanted to make it a nice vacation town," Schneider said. "All of a sudden, buildings couldn't be more than a certain height, and there was this rustic requirement passed, so that when they built the gas station it had to be with this phony log veneer. But that's not genuine. It's all about air, freedom of space and mind. We choose to live and let live. We don't want to deal with regulations."
"But what about intellectual vibrancy?" I asked him. Did he ever miss that in such an insular environment?
He looked at me squarely. "You have to imagine a different definition for that," he said. "Everyone here is himself. In New York, you see a woman in a window and you think, 'That's the look.' Being here gives you an opportunity to figure out who you are, to mold your own character."
Still, there's a cost. Several museums' worth of mining history crumbles in the hills around town because there's no preservation movement. (That usually starts up when the Californians move in.) One imagines there's now enough money to finally replace the town's septic system with sewer, or to somehow benefit the town's one-room schoolhouse.
Then again, those schoolchildren are growing up in a community that fits no category a visiting New Yorker might carry in his head. The liberals shoot elk and disdain the government's tight oversight of Yellowstone while the conservatives vote for medical marijuana and espouse tolerance. The preachers are antiwar and some of the former wild kids vote Republican now.
It's no libertarian utopia. Some folks still won't patronize the General Store because its former owner was a hippie who opposed mining, and the old-timers still drain their motor oil onto what passes for pavement and make wisecracks about the lattes at Chris Warren's coffee shop. But they like what's happening, too. "I grew up on a ranch eating beef," said Mary Blain, who runs an art gallery and has lived in the area her whole life. "Montanans don't like lamb. I guess it's a rivalry between sheepmen and cattlemen. But that man from France" — she pointed across the street to the Bistro, where Richard Ducrot showcases some rather fine cooking and a wine list topped by a $300 premier grand cru — "makes a lamb good enough even a ranch girl will eat it."